Andrew here.
My heart goes out to everyone who's been affected by the devastating flooding throughout Australia. I hope you and your family are safe and dry.
While I don't reccommend riding in these conditions, I've jotted down some points on how to stay safe while riding in the wet, for days where the rain's a little lighter.
You should also check out the SafeFit™ page for more cycling safety tips.
TIPS FOR RIDING IN THE RAIN
1. Stay visible
It's important to stay visible while riding. Wet conditions make it even more difficult for motorists to see you on the road, which can be extremely unsafe without proper gear. If you're riding in the rain, keep your lights on at all times, and invest in a high-visibility waterproof jacket or raincoat. This will keep you warm, dry, and visible at all times.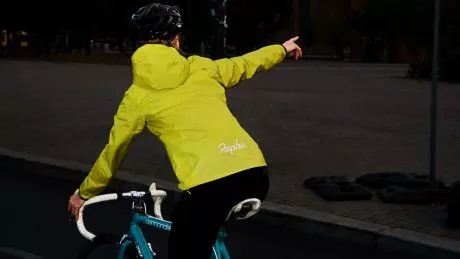 I recommend you look into the Bontrager Ion 100 R/Flare R Light Set. These lights are designed for 24/7 visibility – night or day, rain or shine. They can also be clipped off easily and charged via USB for extra convenience.
2. Be careful
When it's wet, you should always take it slow and watch where you're going. Your bike's handling will be much trickier when it's slippery, so:
Slow down – to prevent skidding
Brake gradually – to give yourself plenty of time to come to a stop
Don't lean hard into corners – to prevent your bike sliding out from under you
You should also be aware and ready for these hazards:
Potholes – These can fill up with rain, so you can't actually see how deep they are
Painted lines – The white lines on roads can become very slippery when it rains, so you should actively avoid riding on them, especially when taking turns
Puddles – Much like potholes, you don't know how deep puddles will be
Rainbow patches – If you watch the road while you're riding in the rain, you'll likely notice some rainbow coloured patches. These are patches of oil, and they can be very slippery – avoid or slow down while crossing these spots
3. Prepare yourself
You should always be prepared while cycling, with the correct gear and spares. This is even more important in the wet – the last thing you want is to be stranded with a flat tyre in the rain!
I know I've mentioned a few of these already, but for the sake of clarity, all cyclists should have these things:
Helmet – Make sure you wear a well-fitted helmet to prevent head injuries if you do happen to have an accident.
Bike Lights – Front and backlights are always essential. Even during the daytime, you should have lights on to be seen at all times.
Raincoat – To keep dry and warm. These can often be packed down into a conveniently small size.
Extra Wheel Tubes – In case of a flat tyre, it's extremely handy to be able to replace your tubes on the spot.
Water Bottle – Keep hydrated. If you don't have a water bottle cage, come in store and we can help fit one to your bike.
(Optional) Bontrager Flat Pack – Fix flat tyres on the go.
(Optional) Bontrager Multi-Tool – To make on the spot fixes and adjustments to your bike.
These tips will make cycling in the rain safe and enjoyable when you're itching to get out there and ride. But as with everything, know your limits and don't put yourself in a situation you can't handle – this rain will end eventually!