Explore the Northern Beaches from a New Perspective
Mountain bikes are made to ride off-road for adventure, fun and competition.
They're characterised by wide, knobby tyres for increased traction on variable terrain, but there is a great deal of variation between models. Hard tail or full suspension? 29er or 27.5"? Aluminium or carbon? From suspension to frame design, finding the bike that's right for you depends on where you'll ride and the type of riding you want to do.
At Brookvale Bike Factory we have three types of mountain bikes: Hardtail, Dual Suspension, and Electric mountain bikes.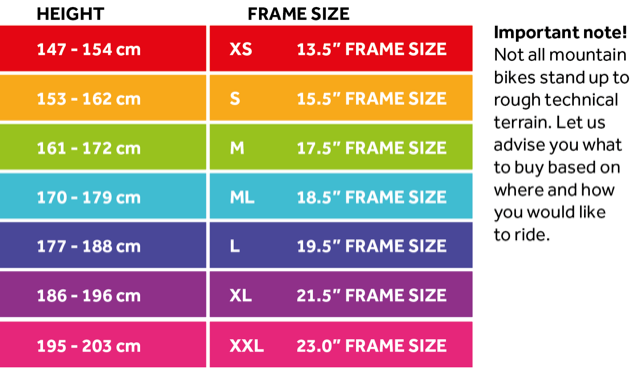 Please note: At BBF we have a huge range of Trek bikes in all models and colours.
The Trek Marlin is a great all-rounder mountain bike, suitable on and off the trail. It's durable, versatile, easy to accessorise, and just as much at home on potholed city streets as on the dirt.
Marlins come in seven frame sizes to suit riders of any height, making them perfect for bigger kids. The smallest sizes even come with short-reach brake levers and narrower handlebars that give smaller riders better comfort and control.
Range starts from $899.99
The Trek Roscoe is a perfect choice for riders who want a confidence-inspiring mountain biking with the simplicity of a hardtail. It's a fun-loving hardtail trail bike that's grippy and easy to control, thanks to 120mm of front suspension travel and large plus-size tyres. Plough over roots, rocks and whatever else gets in your way.
The Roscoe's Alpha Gold Aluminium frame is light, stiff and packed with trail-friendly features, like internal cable routing and Boost141 rear hub spacing that allows for additional tyre clearance and a stronger wheel.
Range starts from $2,599.99
The Trek Fuel EX is made to hit every trail, every day. With a balanced trail bike geometry and refined suspension, Fuel EX is fast on singletrack, capable in the rough and fun wherever you ride it.
Fuel EX features Trek's exclusive RE:aktiv damper, which is firm when you're pedalling but instantly gives way to soak up bumps. Want to take things from ultra-responsive to ultra-mega-responsive? Select models feature RE:aktiv with Thru Shaft, which reacts to terrain faster than any other shock available.
Range starts from $3,799.99
The Trek Remedy is a hard-charging all-rounder trail bike for technical terrain and rowdy descents. New models come with a strengthened frame and fork, capable of steadier steering and handling drops and jumps. This makes them perfect for riding at a range of locations, including the new Bare Creek Bike Park in Belrose.
It's the mountain biker's mountain bike, built with a 160 mm fork and 150 mm of rear travel, snappy 27.5˝ wheels and all the stoke-worthy features that make it perfect for hitting jumps, roosting corners and throwing down on the trail.
Range starts from $5,499.99
The Trek Slash is an enduro mountain bike that packs a serious punch on even the most difficult terrain the Northern Beaches has to offer. It's built to be fast, smooth, and fun in the wildest terrain. Whether you're cruising along Manly Dam, or tackling the drops and jumps of Bare Creek, the Slash is an absolute blast to ride.
The Slash is packed with modern features, like internal frame storage, for an easy, no-fuss place to keep all your essentials safe and secure. Plus, tubeless-ready rims and tyres mean you can get rid of your tubes to reduce flats, increase traction, and lighten the weight of your bike.
Range starts from $5,499.99
The Trek Top Fuel is a full suspension mountain bike for riders who don't settle. Not for parts nor for one style of riding. It soaks up rough, rugged descents but still flies like a rocket up hills and on flat stretches.
Whether you're pinning a number on your jersey or hitting the jumps with your buds, Top Fuel delivers. It's a contender in any XC race or marathon ride but knows how to cut loose when you're hopping around in the woods.
Range starts from $3,799.99